Backlink Status Explained
Understanding how backlinks affect your website ranking is one of the most complicated aspects of SEO. When you start adding multiple tiers of backlinks, it gets even more complex. To help navigate this tricky web of links, Backlink Monitor provides you with automated backlink analysis.
When Backlink Monitor checks your backlinks it will report a number of different statuses depending on what it finds:
OK
Broken Tier/Not Shortest Path
No Backlink
Page Error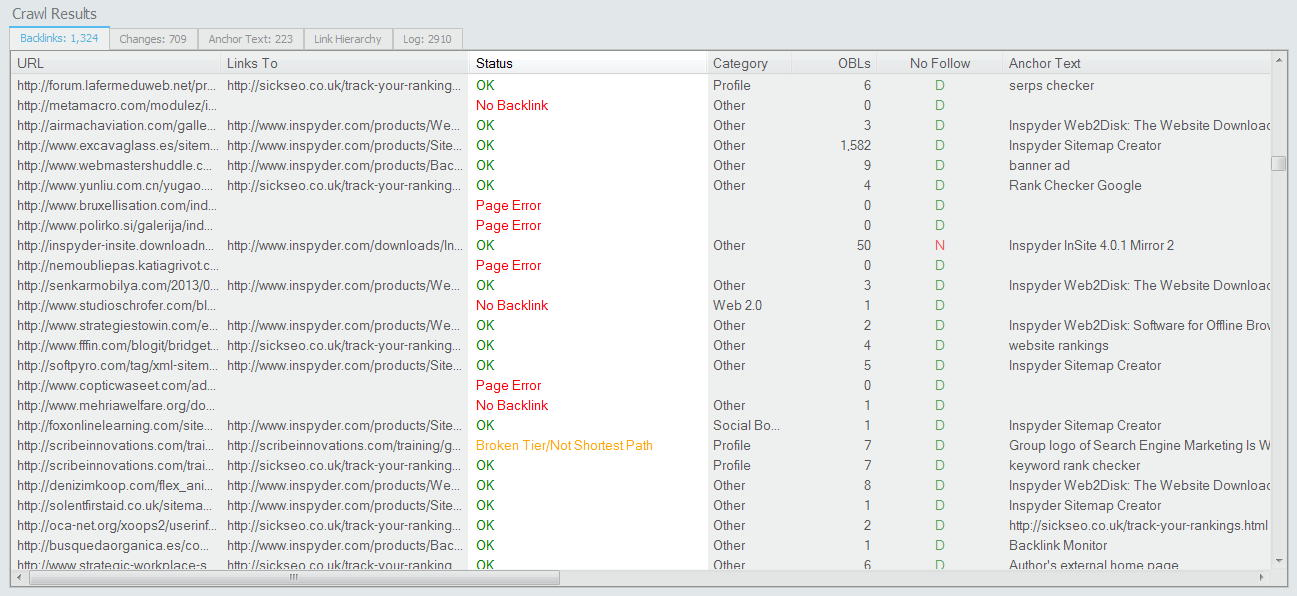 Take a look at the following diagram, then continue reading for a detailed explanation of each status. (Click to enlarge.)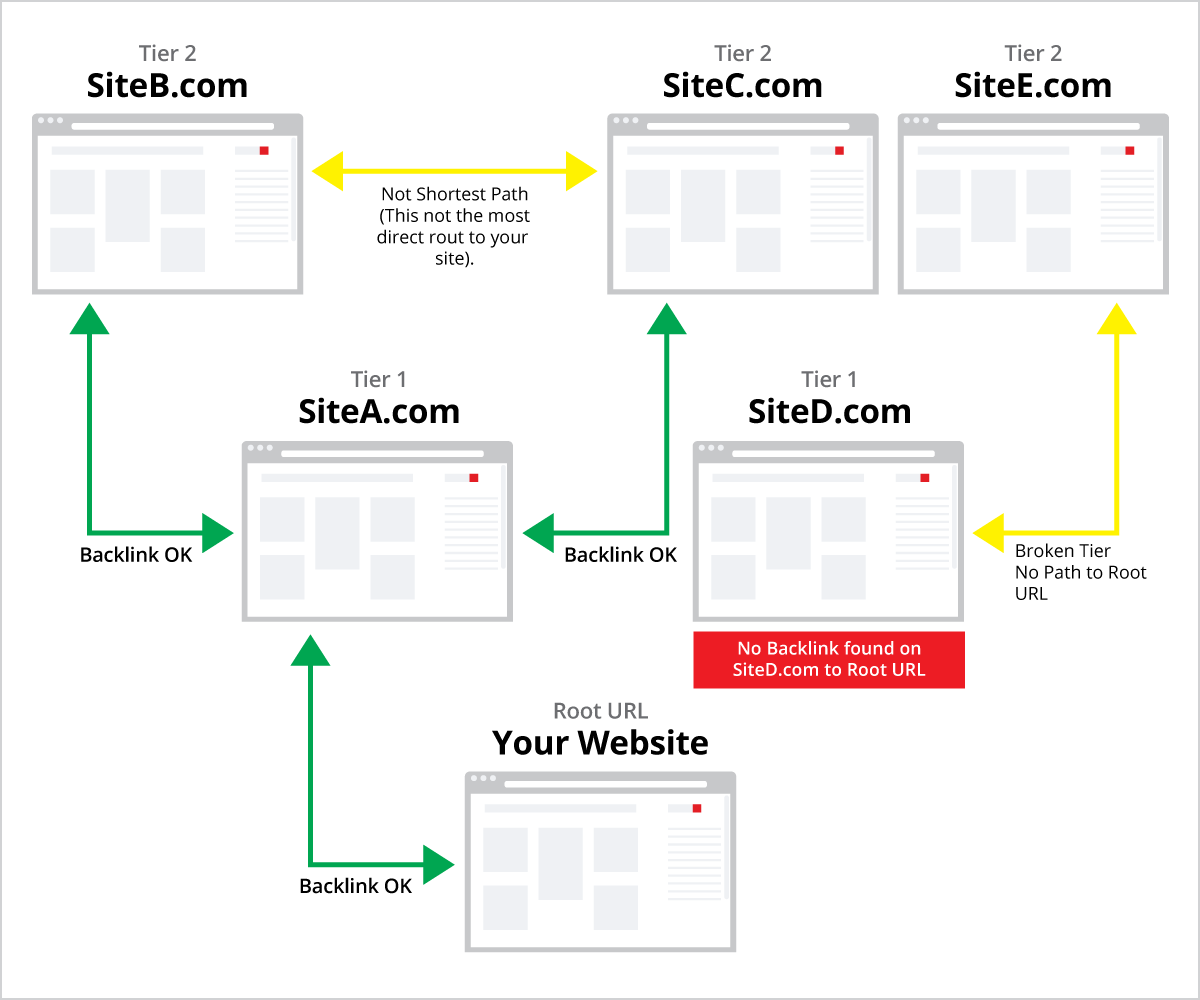 Broken Tier
In the image above, a broken tier is illustrated by the backlink between SiteE.com and SiteD.com. Here we can see that there is a working backlink between these two URLs, but SiteD.com never links back to the Root URL (i.e. your website). This is important to know, because any new backlinks built to either SiteE.com or SiteD.com will not have any effect on your website's ranking. You should not build additional backlinks to broken tiers, as they have no SEO effect.
Not Shortest Path
In the image above we can see an example of a "Not Shortest Path" URL between SiteB.com and SiteC.com. Both of these websites have working backlinks that do eventually travel back to the Root URL, but the backlink between these two URLs is not the shortest way to get back to your site. From an SEO perspective, the more direct links will have a greater influence on your rankings.
No Backlinks
No backlink occurs when a URL is working but no backlink is detect on that page. SiteD.com in the picture above illustrates that. Backlink Monitor found the URL, but it didn't find a backlink that points to your website. This generally occurs when a link has been removed by the site administrator. Building additional links to pages with no backlink will have no SEO effect.
Page Errors
A "Page Error" occurs when Backlink Monitor is not able to access the backlink URL. The page may have been removed or the server may be experiencing technical difficulties. By default, Backlink Monitor only waits 10 seconds for the remote server to respond. Google prefers fast loading pages (2 seconds or less), so we setup Backlink Monitor to be aggressive when it checks URLs by default (you can adjust the Crawler Timeout value in Advanced Project Settings if you wish to change this). If a site is taking 10 or more seconds to respond, Google will not look at it favorably.
Removing Dead Backlinks
One your backlink analysis is complete, you will no doubt have a number of backlink URLs that are not working. You can click the "Delete Dead Links" button on the main toolbar to intelligently remove these backlinks. Backlink Monitor will automatically delete the backlinks that have no SEO benefit from your list of Backlink URLs. Any backlinks that still have value will be retained.
What about Not Shortest Path links?
When you select and remove Backlink URLs from the results that are marked "Broken Tier/Not Shortest Path", Backlink Monitor will check to see if that URL hosts any links of SEO value. If it find the URL hosts at least one good backlink, it will not be automatically removed from the list of Backlink URLs. You can safely select all your error URLs in the results and delete them knowing that Backlink Monitor will not remove any links that provide any SEO benefit.